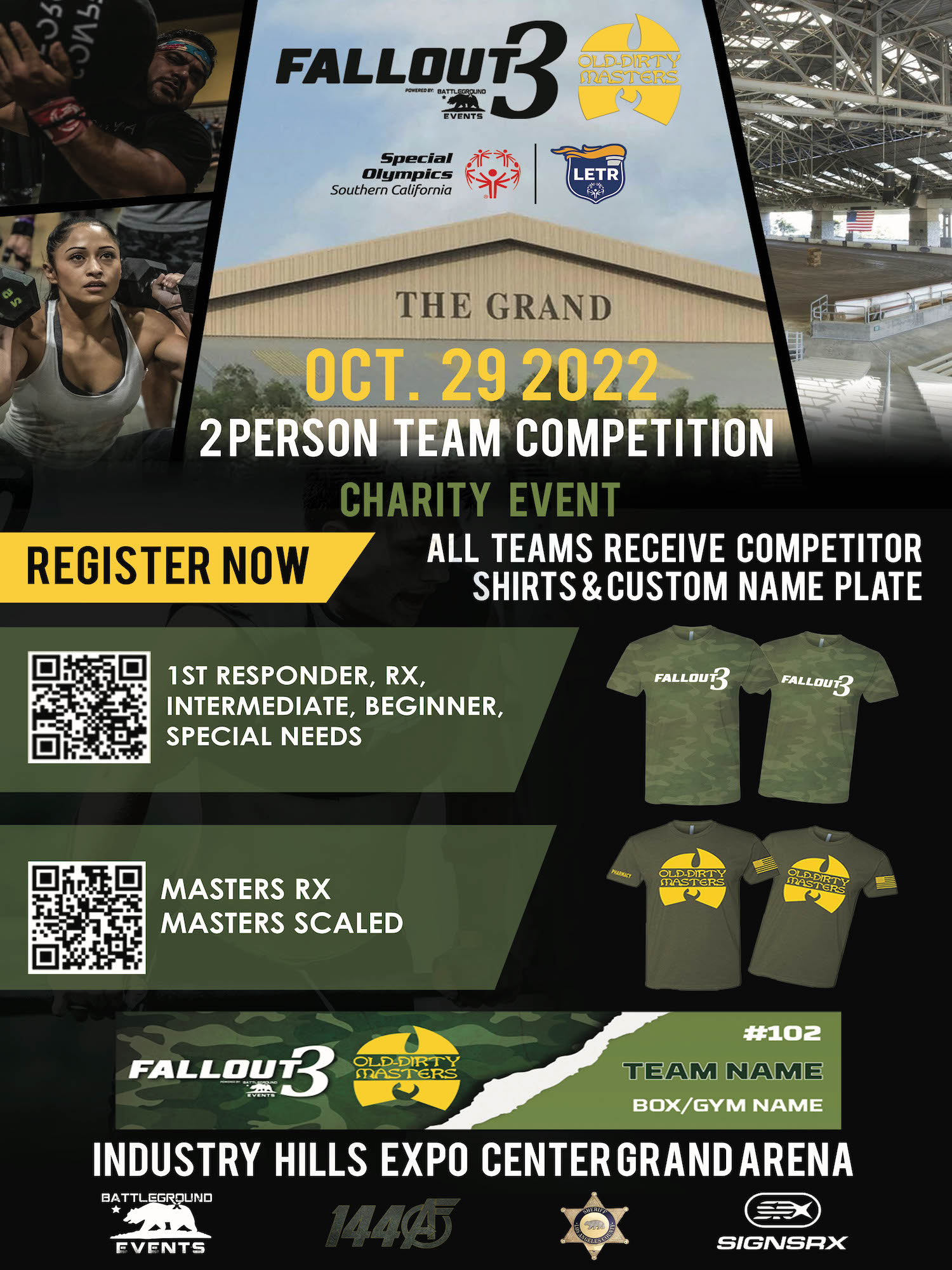 EARLY BIRD REGISTRATION OPPORTUNITY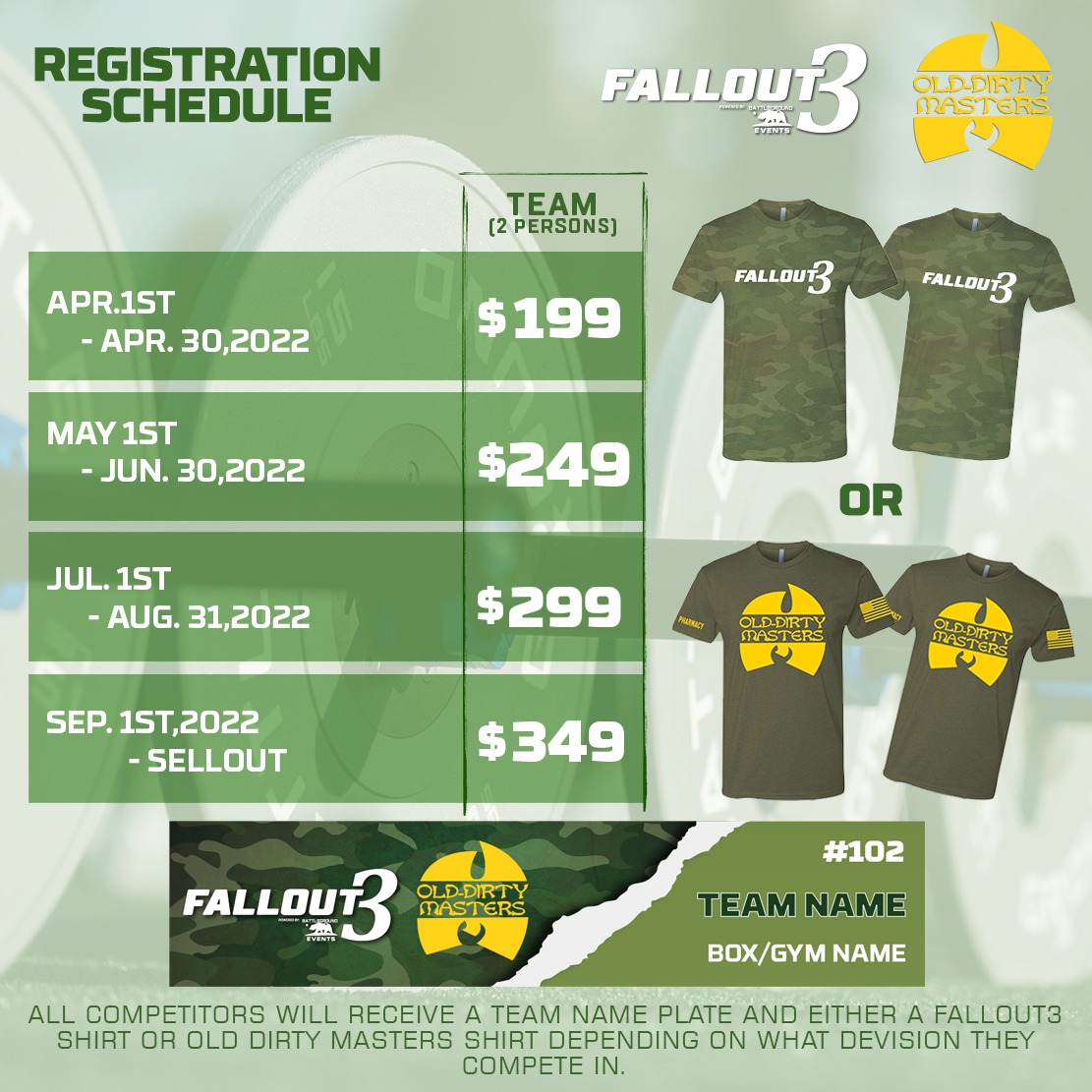 Fallout 3 is BACK! and in a BIG way This time at the amazing "Industry Hills Expo Center- GRAND ARENA" In the City of Industry. This year we have partnered with our friends at Old Dirty Masters who have been producing a really great MASTERS ONLY team competition. Old Dirty Masters will be handling all of the Masters Divisions for Fallout. If you are a Masters Team and need to register your team click HERE. 
Fallout 3 will be for the following Team Divisions: Rx, Intermediate, Beginner, 1st Responder, Special Needs. 
Old Dirty Masters Team Divisions: Masters Rx, Masters Scaled. 
Workouts will be the same for ODM and Fallout 3. 
WORKOUTS ARE:
"Saved By The Time Cap"  an AMRAP of 12min
3x of:
-18 Snatches (Rx/1st Resp 115/75, Int 95/65, Beg 75/55)
-18 Toes to Bar (Beg. Hanging Knee Raises open Standards)
then immediately into….
2x of:
-15 Hang Clean n Jerks (Rx/ 1st Resp 135/85, Int. 115/75, Beg 95/65) 
-15 Chest to Bar (Int pullups, Beg Ring Rows)
then immediately into ……
1x of:
-9 Shoulder to Overhead (Rx/ 1st Rep 155/105, Int. 135/85, Beg 105/75)
-9 Bar Muscle Ups (Int Pullups, Beg Ring Rows)
-Max Burpees for remainder of clock……
(1 partner 1 rests combining to complete reps)
"Lets Get Physical"
3 Different Scores on a 10 min clock
First part is a 4min Amrap
-Partner A Max Cal Row
-Partner B Max Double Unders (Beginner Division does Singles, athletes may switch at ANY time during the 4 min)
….Next part, last 6 minutes will be A Complex.
Find a 1RM each of the following:
-1 Clean (Any)
-2 Front Squats
(Score is combined Heaviest successful Lift)
Floater is …….
"Eye of The Tiger" AMRAP 8
-A total of 400m in Run Volume as a team/buy in.
(each run is 100m.  The team may break up however eg. 1 runner does all 4, split as a relay 2 and 2, 1,1,1,1, or 3 and 1, etc.  All acceptable depending on your strategy.
then..
-Athlete A Max Cal Ski Erg
-Athlete B Max Single DB Lunges (Rx 55/35, Int 35/25, Beg 25/15) Athletes may hold DB how ever they like.
(Team may switch at any time, also….. strategy time…. Athlete A may start Ski at any time, once that same athete is done running, but once they start on the ski that athlete has relinquished their opportunity to run)
S.T.A.R.S. Center
11515 Colima Rd, Whittier, CA 90604